Sean Paul: 10 of the best
Here are 10 tracks that prove the dancehall star's ability to cross boundaries, without ever forgetting what made him famous in the first place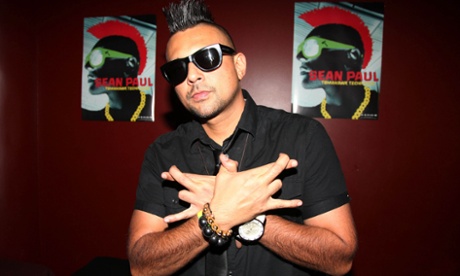 Photograph:Johnny Nunez/WireImage
Infiltrate
Sean Paul Henriques is the most internationally successful Jamaican dancehall artist. He's the master of the crossover: aside from topping the charts worldwide, many of his best tracks remain dancehall staples from the streets of Kingston to the clubs of London and beyond. With a flow that clearly draws from Super Cat, Sean Paul can effortlessly move from bashment chat to melodic hooks; his best tunes are perfect pop confections. It's hard to think of another contemporary Jamaican artist whose hits have such staying power. Tracks from more than a decade ago still sound fresh today. Infiltrate was one of his earliest hits, demonstrating the melodic chat style that allows for a seamless move from verse to hook (Deport Dem is another great example of this phenomenon). The track catapulted Paul from Super Cat sound alike to an artist in his own right.
Haffi Get Da Gal Yah (AKA Hot Gal Today) with Mr Vegas
Though Paul first connected with his fellow dancehall star Mr Vegas(together with the American hip-hop MC DMX) for Top Shotter, from the 1998 Belly soundtrack, the real magic happened on Hot Gal Today. Over a classic Steely and Clevie riddim, Paul provides bouncy verses alongside Vegas's earworm of a nonsense chorus "she la la la la la la boom boom she lay".
Gimme the Light
Though Paul had been bubbling in dancehall circles, it was Gimme the Light – with which he broke into Billboard's top 10 – that gave him an international profile. Busta Rhymes got in on the action, releasing an official remix entitled Gimme the Light (Pass the Dro-Voisier). The guitar twang of the buzz riddim is unmistakable, but it's Paul's hummable celebration of ganja that makes the tune.
Get Busy
Driven by Steven "Lenky" Marsden's Diwali riddim, Get Busy stuck around for a while at the top of the US charts in the summer of 2003. The video is a love letter to teenage life in suburban Toronto. All icy weather, parkas, adults eating roti upstairs and basement bashment party, it is shot in pre-Drake era Toronto, and includes a cameo from Kardinal Offishall.
Baby Boy (Beyoncé featuring Sean Paul)

Dancehall tends to crossover into hip-hop and pop radio every once in a while, and being selected to add a little something to a Beyoncé track means you've got a surefire hit. Beyoncé reportedly handpicked Paul to appear on this US No 1 and, against a background that encompasses hip-hop, Middle-Eastern sounds and a touch of bhangra, he more than holds his own alongside one of the world's most famous voices.

Like Glue
Like Glue demonstrates Paul's ability to combine incredibly crass and slack lyrics with a rhythmic flow so distracting that listeners are likelier to dance than take offence. The warmth and fun of the buy out riddim is emblematic of the early 2000s, when dance moves like "signal di plane", "pon di river" and "row di boat" were running the show in Jamaica. Paul has a knack for creating perfect pop songs, and this was a good example.
I'm Still in Love With You
A relic of Alton Ellis's rocksteady Studio One classic, this track brings together Sasha's vocals and Paul's dancehall flow – and it works. LikePunkie, I'm Still in Love With You demonstrates that, while Paul's mid-range singing may not win any contests, it matches perfectly with springy, playful reggae, be it rocksteady or present-day island pop.
Give It Up to Me
More than anything else, Paul has the ability to churn out songs that can work magic on a dancefloor. No wonder this track ended up on the soundtrack to the dance movie Step It Up. Give It Up to Me shows that Paul is equally able in Spanish and English, and showcases his ability to make the ultimate crossover – from dancehall to Disney – without sacrificing the essentials. This is still a dancehall standard.
So Fine
Paul's melodic dancehall has been challenged in the past decade by the rise of Mavado and Vybz Kartel, but he was still able to get a few hits in, like the massive Temperature in 2006 and So Fine in 2009. So Fine was produced by Freddy McGregor's son, Stephen – AKA dancehall production prodigy Di Genius, who was behind much of Paul's fourth album, Imperial Blaze. Di Genius is responsible for some hardcore dancehall hits, and So Fine does share some of the sparseness of those tunes, but Paul's voice warms it up.
Got 2 Luv U
What do you get when you mix Paul with the pop songwriting stylings of Stargate, the Norwegian production team responsible for dozens of No 1 singles (including What Does the Fox Say)? A ringer of a summer song, complete with diva-vocal choruses, that's what. This song demonstrates Paul's range. On his most recent album, Tomahawk Technique, he showed that he's still got the dancehall chops, but can also step up to the plate on huge, shimmery pop tracks and make them significantly more interesting. For another example, check She Doesn't Mind.
——Views (569)